Maura Mitchell heads up a team of industry veterans to produce powerful and practical business solutions. From growth plans and business strategies to new product innovation and market research, we customize our approach to each project to ensure we perfectly meet our client's needs and drive success.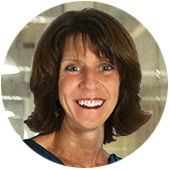 Maura Mitchell, the founder and principal of Brandology, is a business veteran with over twenty years of management and marketing experience.
After receiving her MBA from Stanford University, she joined Pillsbury, where she held progressively larger assignments within the Refrigerated Products Division. Her biggest accomplishment was launching a new cookie product, Shape Center Cookies, on the fastest timeline in the history of the division.
One snowy day in June, Maura left Minneapolis to lead Nestle Beverage Company's key initiative, the geographic expansion of Hills Bros. Coffee. Subsequently, Maura was promoted to Business Director in charge of growing Nestle Beverage Company's $500 million ground coffee portfolio.
Next, Maura applied her skills to consumer technology marketing at Electronic Arts where she was Director of Marketing for EA SPORTS video games. Maura returned to packaged goods joining Quaker Oats/Golden Grain as General Manager. She turned around the Rice-A-Roni business, delivered the three most profitable years ever for the portfolio and became the division's second in command.
In 1999, Maura founded Brandology. Since then, she has become a trusted advisor, providing powerful, practical advice that drives sales and profits for Clif Bar, Naturipe Farms, Safeway, Clorox, Peets Coffee, Mighty Leaf Tea and many other companies.
Brandology Partners

Ellen Ambrose brings 20 plus years of general management, marketing and strategic consulting experience to Brandology's clients, helping drive their success through business assessments, consumer insights and profitable innovation.
Ellen's career highlights include being Vice President and General Manager of the Nestle Beverage Company Coffee Division, the company's largest and most complex business unit with over $1 billion in revenue. She also was VP and GM of the Nestle's Powdered Beverage Division, running the Coffeemate, Quik and Carnation Cocoa brands.
Ellen's previously held positions of increasing responsibility at MCA Consulting, Hunt Wesson and Kal Kan.
Ellen has served as a Board Member for Annie's Home Grown and the San Francisco Chamber of Commerce.

Ken Monnens heads up KenCreative, a brand focused design firm with extensive expertise in the food, agriculture, and lawn & garden categories.
As a senior level marketer, Ken has partnered with Brandology for the past 10 years on substantial assignments for Club One Fitness, Cal Alumni Association UC Berkeley and projects in the fashion, beverage and wine industries.
KenCreative services include brand identity development, product packaging, print collateral material and web site design.
The team's experience also includes a broad spectrum of design work for not-for-profit organizations.

Sally McLaughlin is expert in value-added qualitative marketing research, helping our clients identify growth opportunities through a better understanding of their target consumers.
An experienced moderator in a variety of methodologies, Sally creates a comfortable and engaging rapport with respondents and utilizes techniques to uncover both rational and emotional drivers of behavior. She translates these insights into actionable recommendations for our clients.
Sally has more than 20 years of consumer marketing research experience. She has been a qualitative researcher for over 15 years, providing insights and guidance to food, beverage, CPG and retail clients. Previously she held management positions in consumer insights at The Clorox Company and The Gillette Company. She is an active member of the Qualitative Research Consultants Association and a graduate of the RIVA advanced moderator training program.
Giving
Brandology gives a portion of its net revenue every year to organizations that help women escape and recover from domestic violence.

"Maura is a creative, one-of-a-kind strategist and adviser. She is brilliant at mining and creating consensus from diverse groups across an enterprise, making her exceptionally valuable as a strategic partner."
—Karen Joy, Director of Business Development, CVAC Systems